Refresher Course in Tropical Infections. 13th Event
---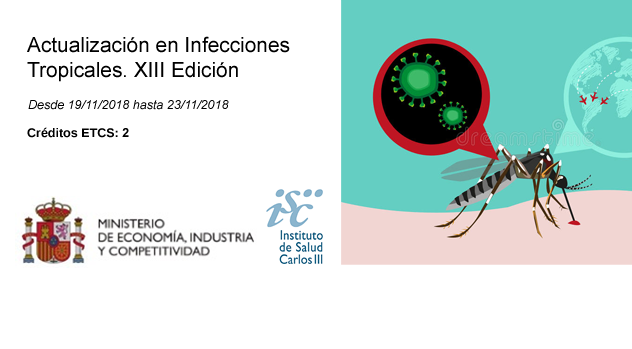 This course is aimed at reinforcing the theoretical-practical skills of health professionals in the field of Tropical Medicine.
The goals of the course are to:
Update knowledge about epidemiology, clinical practice, treatment and control of tropical diseases.
Provide continuing education to health care professionals to treat certain pathologies affecting migrants and travellers coming from tropical regions.
Perfect, improve and update the concepts of tropical diseases in order to help health staff to provide patients with an early and more efficient treatment.
The contents of the course will be imparted in the form of theoretical classes and practical clinical cases.

The programme shall address the following subjects:

Syndromic approach to patients with tropical pathologies:

Fever syndrome
Eosinophilic syndrome
Abdominal syndrome
Other syndromes

Advice to international travellers
Tuberculosis and immigration
Infection by HIV
Update in tropical diseases:

Malaria
Filariasis
Leishmaniasis
The teaching methodology will focus on theoretical classes and practical cases.
The students will be evaluated on an ongoing basis, particularly through the resolution-comments of the results obtained in practical clinical cases.
Dirección
Boquete Blanco, María Teresa
Health students and professionals with an interest in Tropical Medicine: physicians, personnel with biomedical specialities, and nursing staff.